A Capella Groups Ally for an Awe-Inspiring Concert
Berkeley's Mello Divas, Beatitones, and Treblemakers unite for an outstanding 2018 A capella concert!
Hang on for a minute...we're trying to find some more stories you might like.
An electrified crowd huddled in Berkeley's Gabos Hall on the Friday night of April 6th, anticipating the moment all had been waiting for: the spectacular singing show presented by Berkeley's Beatitones, Treblemakers and Mello Divas. The audience quieted as choral director Carrie Dietsch appeared from the shadows of the velvet curtains.
With a proud smile, Dietsch announced the start of the concert. This is the first year all three A capella choirs have sung together. "We're really excited that this year the Beatitones and Treblemakers are both jumping on board and ready to do this A capella concert," Dietsch said. "I think it's going to make the concert a lot more high energy."
The first act was presented by the Beatitones, who paraded onstage adorned with tuxedos and wide smiles. After singing the emotionally-charged cover of Zac Brown Band's "Colder Weather," the Beatitones introduced themselves and their new director, Jesse Martin. Songs from their set included "Drift Away,"   "I Won't Back Down," "Mr. Blue Sky" and "For the Longest Time," which included finger-snapping and dancing, not to mention solos by Alexander Feliciano '18, Ben Graham '19, John Patrick '18, Nolen Levin '21 and Jackson Meyer '18.
As the Beatitones disappeared behind the dark curtain, the Treblemakers, the first Berkeley coed A capella choir, emerged. This concert was only their second public performance. "We did perform once in convo, and that was pretty cool, because we were able to be the first coed A capella choir at Berkeley to perform," said Vicki Freedman '21, a member of the Treblemakers. Krishna Menon '18 lead the Treblemakers in his solo of "Killing Me Softly," and Sophie Moss '18 wrapped up their act with a solo in "One Day."
Finally, the Mello Divas strutted onto the stage–bright red shoes, dark outfits and all–to usher in the concert's finale. This nationally renowned female A capella choir stunned the crowd by singing "Battlefield," "Skyfall," "Not About Angels" and their first-place winning competition set from the "Sing Strong"  competition in New York that included "Divas Salute" and "Fighter." Solos by Katherine Nerro '20, Natalie Belluccia '18, Anna Roman '18, Kassidy Gavagan '19 and Tallulah Nouss '20 made the audience go wild, and Addison Aloian '18, the top female vocalist in the country as deemed by judges from their recent competition, concluded the concert with her awe-inspiring solo from the competition set.
"I can't believe there are so many talented kids in Berkeley," said concert attendee Maya Li '21.  "I think it's great for students to get so involved in music throughout high school years, and to be able to show that off through these concerts, and for other students to get exposed to great music like that."
A capella performances:
Beatitones
"Drift Away" by The Doobie Brothers – Alexander Feliciano, Ben Graham, John Patrick & Nolen Levin, solos
"Colder Weather" by Zac Brown Band– Jackson Meyer, solo
"I Won't Back Down" by Tom Petty & The Heartbreakers – Alexander Feliciano, solo
"For the Longest Time" by Billy Joel – John Patrick, solo
"Mr. Blue Sky" by Electric Light Orchestra
Treblemakers
"Killing Me Softly" by Roberta Flack – Krishna Menon, solo
"One Day" by Matisyahu– Sophie Moss, solo
Mello Divas
"Battlefield" by Jordin Sparks – Katherine Nerro, solo
"Skyfall" by Adele – Natalie Belluccia, solo
"Not About Angels" by Birdy – Anna Roman, solo
"Divas Salute" by Beyonce & Little Mix (mash-up) – Kassidy Gavagan, Anna Roman, Tallulah Nouss & Katherine Nerro, solos
"Fighter" by Christina Aguilera – Addison Aloian, solo

About the Contributor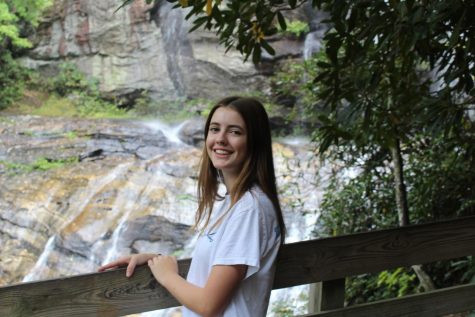 Kendyl Kirtley, Section Editor
Kendyl is a sophomore at Berkeley with a passion for writing. In addition to being a Section Editor on The Fanfare, Kendyl is a writing center tutor, the...